With our Loadbox and Breakout Box you can easily perform complex load simulations tailored exactly to your use cases.
Your reliable partner for load simulation
Leave your worries to us. On the basis of a collaboratively developed specification sheet, we will also take care of the technical design in addition to the production.

Discuss your entire testing project with us, we will be happy to support you and can possibly provide support far beyond the load box and breakout box.
A good and complete documentation is a prerequisite for a successful production according to your wishes. We help you preparing the relevant documents for your loadbox and breakout box.

Everything from a single source: With us you also get the accessories/equipment around the Loadbox and Breakout Box.
Load simulations simplified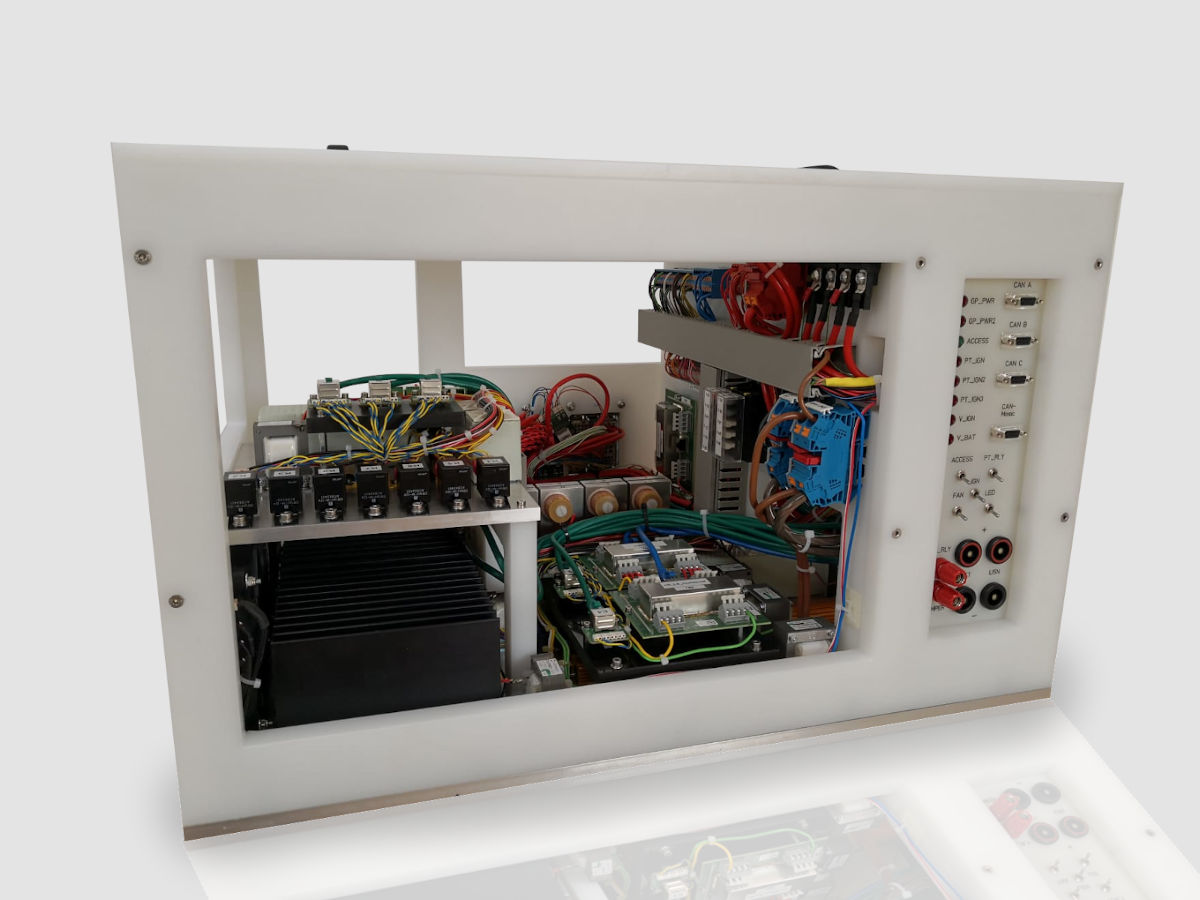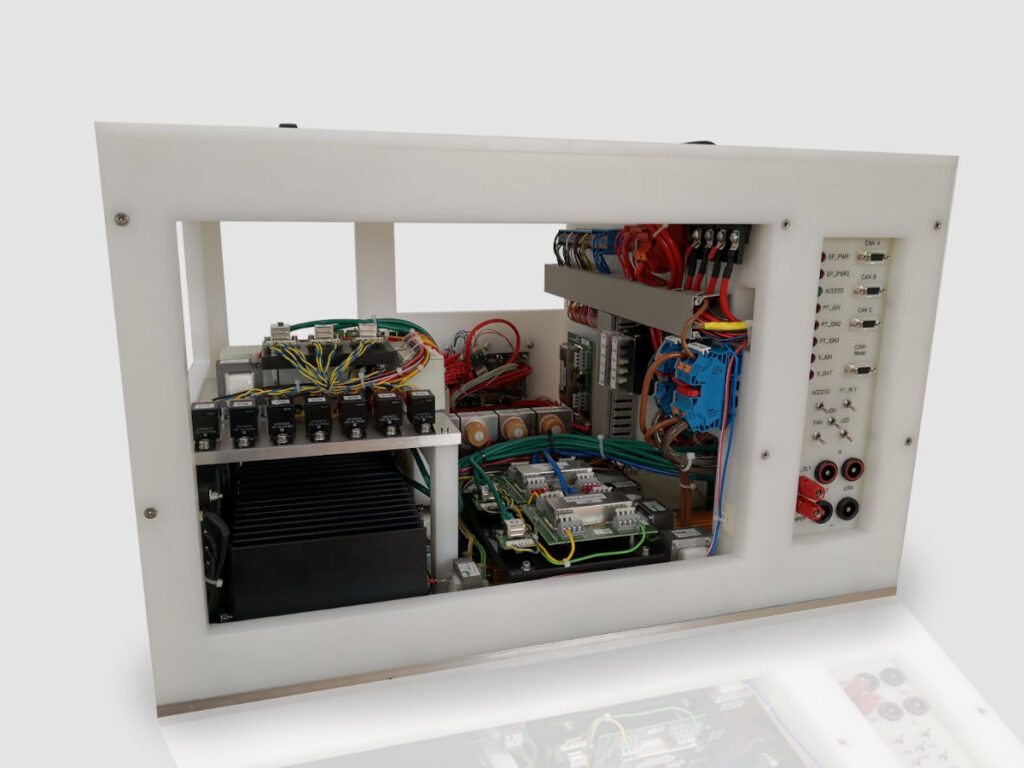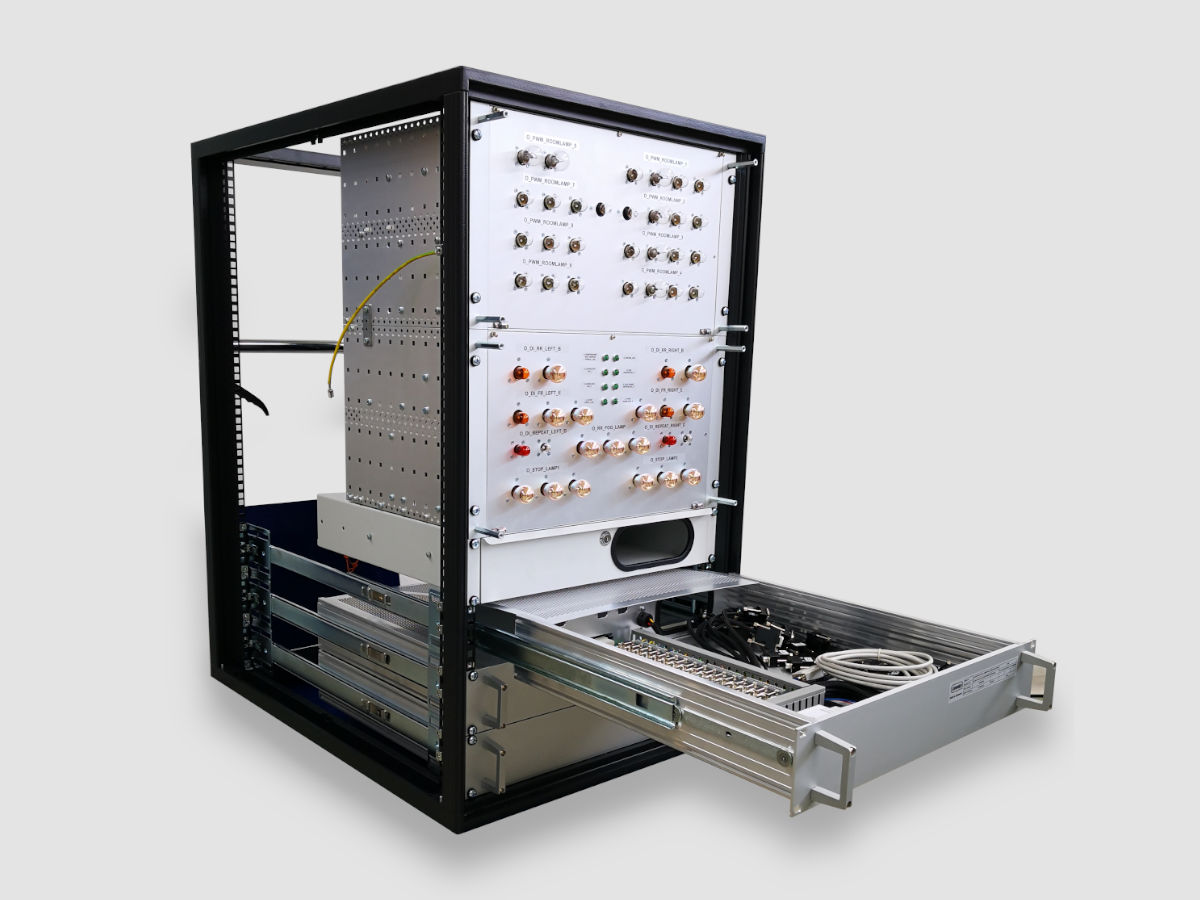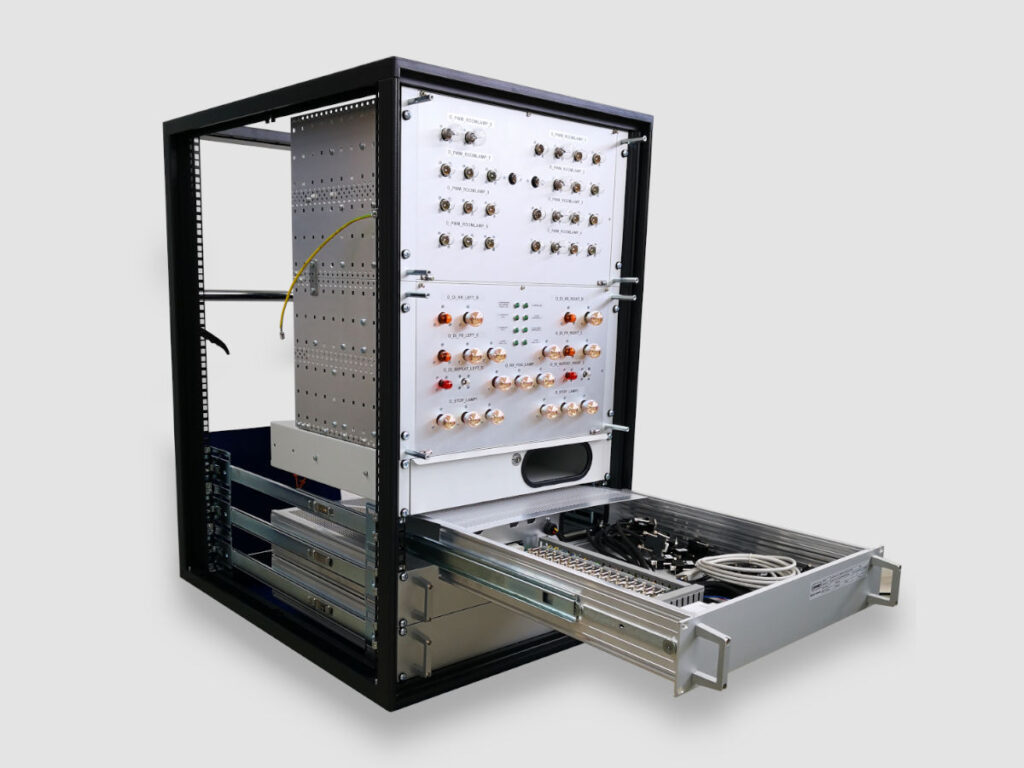 ABS (anti-lock braking system) and ESP (electronic stability program) are standard functions that must intervene in critical situations in every modern vehicle. In addition, there are many comfort options, such as automatic climate control, lane assist or cruise control, which significantly improve the driving experience. All these functions are controlled by control units. In order to test the smooth functioning of ECUs, there is a whole litany of tests prescribed, for example, by the VDA, such as LV124 / LV148, which ECUs have to pass before they can be unleashed on series production. The load box (also load rack) and breakout box are important components of the required test setups.
The load box simulates electrical loads that act on the ECU in actual use. Breakout boxes provide access to the signals and voltages during tests on the ECU. This allows load simulations to be carried out in order to test the load capacity of the DUT. The results can be used to determine optimization potential during the test phase of the ECU in order to increase the load capacity. The differences between the load box and breakout box and the cases in which they can be used are explained further down in the section.
Loadbox and Breakout Box - FAQ's
What is a load box?
Loadracks are frequently used for VDA validations, in particular for LV124 / LV148. Many of the tests from the VDA guideline require that the tested device is electrically in an environment as similar as possible to the series. Load racks are used for this purpose. They contain all relevant electrical consumers such as inductances, capacitances, resistors, lamps in order to be able to represent a realistic load.
The term loadbox has become established in the world of validation and test laboratories. It is about the testing of control units. For the validation of a serial product, e.g. according to the VDA guideline, different life cycle tests like high temperature endurance test, temperature change endurance test, vibration test, salt spray test, EMC tests and many more have to be done.
That means under different climatic environmental conditions, a product has to prove its functionality. Often it is not possible to use the entire product, such as a motor vehicle, for the test, because it does not fit into the climatic chamber or it would be very expensive to test the entire product every time.
However, in order to test the ECU component as close to the point of use as possible, load boxes are used as a compromise. These create similar electrical conditions for the ECU as it would occur in the vehicle. This means that approximately the same electrical flows, signals are transmitted and evaluated. A loadbox often simulates consumers like motors by coils and resistors.
Often it is also interesting to measure or influence signals. A breakout box can be connected between the load box and the control unit (DUT) for this purpose.
What is the typical delivery time for a load box?
The delivery time of a loadbox often depends on the availability of special coils and resistors. In addition, load boxes are available in various designs and grades of complexity. Therefore, no general delivery time can be defined.
Please get in contact with us. We will check the best possible delivery time and conditions for your case.
What is a Breakout Box?
A breakout box is used in test engineering where the possibility of tapping or feeding signals between transmitter and receiver is desired.
The breakout box is therefore located in the wire harness between two devices, such as a control unit and a test bench. Lines are interrupted and connected to sockets, mostly bunch plugs (also called: banana plugs). Each line receives a socket for the incoming and for the outgoing line. If required, these can be easily connected by a jumper. Signals can be measured, evaluated or fed in.
The breakout box is therefore an important tool for making electrical signals accessible. A correct and high-quality processing of the crimp or solder connections used is crucial.
What is the typical delivery time for a breakout box?
A Breakout Box with standard design can be delivered within 4 – 6 weeks in general and in 2 – 3 weeks in express service.
However, you can also get the Breakout Box adapted to your individual requirements. For instance, this special solution can apply to alternative housings or used sockets. Special features of this kind may cause the delivery time stated in the standard case to deviate. We can give you a precise statement on request.
What is the LV124 and LV148?
With LV124 and LV148, the VDA (German Association of the Automotive Industry) has created a standard as a minimum requirement for OEMs, according to which mechatronic consumers in the vehicle, such as control units, must be tested before they can be approved for series use. Among them, LV124 includes the following 22 electrical tests, for example:
E-01 Long-term overvoltage
E-02 Transient overvoltage
E-03 Transient undervoltage
E-04 Jump start
E-05 Load dump
E-06 Superimposed AC voltages
E-07 Slow decrease/ increase of supply voltage
E-08 Slow decrease/ fast increase of supply voltage
E-09 Reset behavior
E-10 Short interruption
E-11 Start pulse
E-12 Voltage response with generator control
E-13 Interruption pin
E-14 Interruption plug
E-15 Reverse polarity
E-16 Ground offset
E-17 Short circuit signal line
E-18 Insulation resistance
E-19 Quiescent current
E-20 Dielectric strength
E-21 Reverse current
E-22 Overcurrents
VDA guideline LV148 is similar in structure to LV124. The main difference is that LV148 prescribes similar tests that relate specifically to the 48 V electrical system. 
Thus, anyone testing to LV124 or LV 148 standard test will need load boxes in addition to the necessary measurement equipment, signal generators and amplifiers to ensure a realistic test environment for the DUT. Breakout boxes can also be a useful tool for integrating measurement technology at the right place or for feeding signals.
Do I need a breakout box or load box?
So which of the two boxes is usable for my case? The answer depends on what results you want to achieve and how your test plan is defined.
A load box is used to simulate a realistic electrical environment on the job site and to test the DUT in that environment.  As a "man in the middle", the loadbox can be connected between the DUT and the loadbox to measure and influence signals. This tester can be interesting for you independently. Or you can use it in combination with a breakout box.
A breakout box can also be used in the real environment, e.g. in a vehicle, to investigate signals in the application and to intervene in the signal flow.